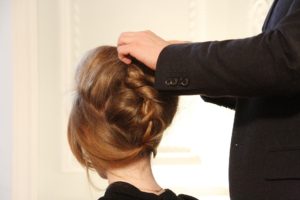 John David Uriegas is a magician. He works magic with hair, makeup, and pardon me for saying this mature women!
John David is pushing all of 30 years old but he relates to customers of all ages, and one in particular… Dee Sico would definitely rather fight than switch. Why? Because, as she tells it, "I get a hug and a kiss. And every time I leave there, he always makes me feel good."
Pretty simple but also pretty powerful. At least powerful enough to cause Dee to make the long drive to his salon every week since Jon was only 21 … barely legal!
Says Dee, "I would never change. No one can do what he can do!"
Uriegas may be fun and friendly but it's all in the context of a product that is definitely worth a premium price.
Dee added, "Every time I go in there, I know that John cuts my hair just the way I love it. And it's always a good time with John. I expect it to be good…and it always is."
I read the reviews … WOW!!! 133 verified reviews all rating him Five Stars! Not just a talented stylist, but an artist and … fun!
Positively Outrageous Service is based on the promise of a pleasant surprise… particularly in a business where how you feel about the product is almost as important as the product itself.
Just listen to what Dee shared with me. "He makes me feel great! When I walk in, my hair could be a total wreck.  And I know that's going to get better but he also makes me feel good inside."
Feel good is the heart of Positively Outrageous Service!
Talent, Trust and Fun are all key components of the POS experience!!! (< tweet this)
Call us today at (830) 792-5555 to create a culture of Positively Outrageous Service