It all started with an unseasonable stretch of rainy days in southern California. They say it never rains in southern California but it pours. (I borrowed that.)
The heaviest rain was over a tourist attraction featuring a drive-through lion safari. The resulting flash flooding washed away the lions. Don't ask how many. I don't know how many. I didn't actually see it but it must have been a bunch or maybe a pride.
You wouldn't expect that a bunch of lions washing away would have an impact on Denny's in Newhall, California but, son of a gun… it did!
" Holy cow! Did you see that? Must 'a been a dozen lions that just washed by!"
"No way!"
"Yes way!"
"How often do you see that?"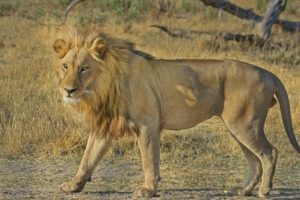 "The lions?"
"No, dude, the rain. This is southern California!"
"We'd better get inside. Looks like it's going to pour!"
"Let's go to Denny's. Something is bound to show up at Denny's."
And Denny's is where I found her… a real lion tamer. I don't believe she actually trained lions. I think she was a lion keeper. Close enough for my active imagination.
What do we know so far?
A southern California tourist safari got washed away. Among other things lost that day were lions and jobs for lion trainers, tamers, and keepers. It was a sad day for lions but it was working out just fine for me.
And here's a fact whose relevance will be revealed shortly: Women's underwear must be applied in a particular order.  
To finish our story, we will need one more fact, actually a definition.
Misogynist. It means you are presumed to hate women or hold a prejudice against women and there is no way of proving otherwise.
We continue.
In short order, a slightly porky but hauntingly cute lion keeper showed up at the Denny's where I was a cook working my way through college… and lion keepers. As I mentioned, our lion keeper was a little porky but still plenty cute, as my misogyny against porky women was wearing off. Not fat. Not big boned. Just porky. And for some odd reason, I couldn't keep from watching her sashaying around the Denny's dining room in that look-at-me A-line uniform.
She had just been cleared to work solo when a family of four was seated near the window in station two. I was watchin'. My clearly confused, little misogynist heart was beating a mile a minute.
She approached the table. I imagined her asking for the order in a sweet, "I'm a former lion tamer" voice. Even though I could not hear, I imagined her telling in great detail of her life with the lions…alone, frightened, as much captive as captor. My mind wandered. I imagined Faye Ray in Godzilla's palm, Jane Fonda as Barbarella. Hey, it's my generation. I'll tell it the way I want to tell it.
And then it happened. Without warning, gravity took the upper hand and her lion tamer panties suddenly dropped to her ankles!
A normal woman would have simply died of embarrassment. But we weren't dealing with an ordinary woman.
Our woman, the lion tamer, stood bolt upright, politely excused herself and then, with her panties still bunched around her delicate ankles, scootch-shuffled to the service island, and daintily withdrew first her left foot, followed immediately by the right. And in a single well-coordinated maneuver, she scooped her unmentionables into her uniform pocket.
In the kitchen I was laughing myself silly. The family that had stopped in for a late lunch was instead being served a story of a lifetime. Two waitresses clearing nearby tables had a chance to show their solidarity as they flanked the former lion tamer, now professional server, and marched with her back to the table where she boldly resumed taking the order.
Those were the good old days for me. I know I should have behaved differently but sometimes it takes a little time for the lessons of life to catch up with the life we are living. So rather than being overly embarrassed for appearing a tad misogynistic, I will use my talents in an attempt to make up for my immaturity.
I shall memorialize the brave woman with a poem:
You're not as porky as you could be;
That's not me talking, that's my misogyny.
As you consider your can's and your can'ts,
Before you move, pull up your pants!
Bounce back from your customer service mistakes!
Create a culture of Positively Outrageous Service, call us today at (830) 792-5555