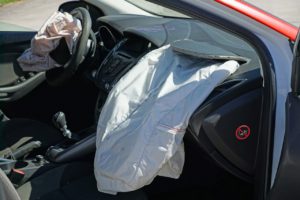 We on our way to a romantic two days at the Texas coast. We had hoped to squeeze in a mini vacation of sorts between the too hot afternoons of late summer and the too cool days of an early fall.  Just right… or so we thought.
What we hadn't counted on was a young woman driving northbound who for whatever reason had decided that it was slightly more important to text her mom than it was to stay decidedly in her lane not ours.
After the crash my first conscious thought was to check on Buns.  A powdery cloud of dust from our airbags was beginning to clear.  I heard her cough and took that as a good sign.
"You all right?" I asked while stifling a cough that was just like hers.
"I'm having difficulty breathing," she was using terminology picked up from joining me on just under 300 EMS runs over the past ten years.  Another good sign, I thought.
Airbags deployed, windshields smashed in a million sparkly pieces, cabin twisted in a surreal, frightening shape.  Rapid assessment was in order but getting to her was going to be a problem. There would be no climbing over her for fear of causing additional injury.
I began a personal inventory to determine what condition my condition was in. I was breathing and the pain was not unbearable. For now, that would be all the assessment I would manage. Even more than assessment I needed an exit…anything would do and it certainly wasn't going to be the bent all to hell driver side door. That door would never open normally again.
Left leg out. How I did it I do not know.
Head on left knee.  'Couldn't do that again in a million years.
Through my personal fog I heard a voice rushing toward the window, shouting, "Don't do it!  Don't do it!"
"Catch me." I replied, a command full of intention.  Glass tore through skin and blood ran down a crease in the mangled door. It would be the scariest of video captured by a want-to-be-helpful by-stander.
I pushed through tearing more skin, exposing more muscle and bone.
I was thinking about those moments and the improbable fact that we survived when yet another voice interrupted saying, "Mr. Gross your wife says you have a business trip coming up in about ten days."  This voice belonged to a military doctor who had quarter-backed simply stellar treatment in the emergency department at Brook Army Medical Center a week or so earlier.
The doc went on to explain that in addition to breaking seven bones I had managed to puncture the upper left lobe of my lung. If I let you get on a plane and for whatever reason they lose cabin pressure, that lung could instantly deflate and create a much bigger problem.  Are you sure you want to take that risk?"
"Gotta work."
"Well, the good news is the flight attendants are all trained to use the catheter in the on-board medical kit."
"If I need it I'll do it myself."
"That might not be as easy as it sounds."
"Yeah, but a catheter that size could do some damage if misplaced.  Wait, I have a better idea!  Do you have a pen?"
"Certainly."
I pulled my shirt as high up as my injured body would allow. "Please. Mark it!"
"With…?"
"An X of course!"
Humans can do amazing things. especially when given just a little help which, most of the time comes in the form of a boss or teacher or mom or dad who take the time to simply say watch me!
I suppose I could have asked for a note explaining in medical terms how to locate the target intercostal space.  Of course any such note would have never made it out of the legal department. Any such note would have required disclaimers and warnings. But all I really needed was an X to mark the spot. I guess you could call it a visual aid!
Find out the key concepts of Positively Outrageous Service. Do what it takes to improve your  customer service process, and win customers for life!
Call us today (830) 792-5555