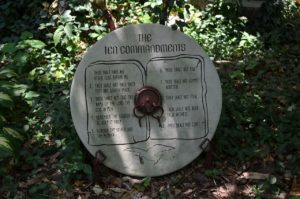 I've always wondered why God hasn't seen fit to send updates for the Ten Commandments. Whenever I have complained, someone always commented that maybe I just wasn't paying attention. Perhaps God had sent all sorts of revisions and updates and maybe, rather than blaming the Maker of the Universe, I should look in the mirror.
So I've been watching and so far… nothing.
I say my bedtime prayers and slip in the occasional hint that I am still waiting. You don't want to get too impatient with God. Look what happened to Job and he was on the good list!
Just in case heaven is just running behind on processing requests, I have been working from an alternate set that I call the Millennial Rules. They're not as good as the original and even if they were, I would not be the one to bring it up.
I have to admit God's Ten Commandments are pretty good. You've got your "Thou Shalt Not Murder." That's a good one. And there's the crowd pleaser, "Thou shalt not steal," which you have to agree is pretty definite.
But there could have been a "Thou Shalt Not Do Drugs," which would be really useful in these modern times. And it would be really fun to have just one audio-video "Thou Shalt Not" for young people who have failed to resist temptation. There would be lightning followed by Morgan Freeman saying, "I see you!" Not that it's not fully covered elsewhere but we all know how confusing King James could be from time to time. (I'm probably going to Hell for this.)
You could have, probably should have, a "Thou Shalt Not Text and Drive." Or if I get to vote on it, "Thou Shalt Not Text and Drive or You Will Find Out What Hell Is Like… Immediately."
If God asks me to work on the Ten Commandments Project, I'm going to suggest He include a special projects committee to create a special kind of commandments called aphorisms. Aphorisms are like commandments from God, except friendlier and easier to understand.
"Do Not Covet Your Neighbor's Wife" is pretty darned clear. Still, you shouldn't hurry through the list. Even though they may sound like the Ten Suggestions, I wouldn't chance it.  And there's always the possibility that God will send a revision while you are taking a sick day.
Here are a few of my potential special projects aphorisms:
Good enough isn't. (This is for anyone who gets paid.)
Adversity doesn't build character; it reveals character.  This one sounds serious but really, they all are.
If it was easy, everybody would do it. I used this to drive my son crazy when he was just starting out. It works really good!
The behavior you get is the behavior you reward. This one was created especially for parents of children who scream in restaurants.
Be kind to strangers. Enough said!
If you aren't living on the edge, you're taking up too much space. Think about it. You'll figure it out!
If it was easy… I already did this one but it's really good! If it was easy, everybody would do it!
Money makes you more of what you were. In other words, if you were a jerk when you were poor, when you are rich, you will be an even bigger jerk.
Someone has to be the parent.  One of my favorites. It's not from God. It's from my wife Buns, and as far as I am concerned, that's close enough.
Of those to whom much has been given… much is expected. You either you get it or you don't.
And my all-time favorite…never try to teach a pig to sing. It wastes your time and it irritates the pig.
I have no idea why God didn't come up with these cool aphorisms. But you know what they say… when the student is ready, the teacher appears!
Learn How to Create a culture of Positively Outrageous Service!
Call us today at (830) 792-5555.