Podcast: Play in new window | Download
Subscribe: Apple Podcasts | Google Podcasts | RSS
Dealing With An Irate Customer or Frustrated Team Member
When Positively Outrageous Servicing an infuriated customer or frustrated colleague, we need emotional intelligence. The Navy Seal Creed says it all:
"The ability to control my emotions and actions sets me apart from other men." ~ Navy SEAL Creed.
In the last episode, we examined three emotionally intelligent suggestions to diffuse anger with an irate customer or distraught team member.
Use their name, exercise reflective listening, and practice empathy.
So here's three more.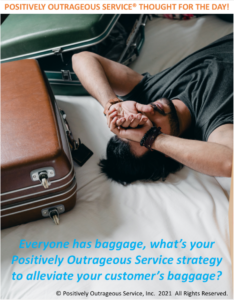 4. Recognize their baggage
We all have emotional baggage. Unprocessed emotions and insecurities from past experiences create emotional baggage. It negatively impacts relationships and can be toxic in our ability to converse and effectively relate to another. For example, an organization fails to deliver multiple times on its promises. Once is an anomaly. Twice can be a coincidence. Three times is a pattern of behavior. A customer who experiences this over-promise and under-delivery will potentially harbor resentment, trauma, and other potential emotions that hamper our effectiveness in delivering excellent service.
Customer baggage handling that is Positively Outrageous Service reestablishes trust and confidence. Three tips for baggage handling:
Watch for cues and clues and take ownership.
Unload the baggage. Ask about the customer or team member's prior interactions – the past casts shadows on the present. Acknowledge it, don't minimize but seek to resolve outstanding issues.
Don't increase the baggage. If you can't unload it, don't add to it. Acknowledging another's concerns and prior experiences alleviates weight increases. Augment the positive. Cushion the negative.
5. Split It Up
Break it down. In the tornado of the moment, often multiple issues are being thrown at you by a heated customer or irate colleague. Parse them out. Some will easier than others to resolve. Tackle the simple ones first, gain understanding and agreement that will increase confidence and trust in you by the other person. Convey an apology for the issues they're experiencing, but you can't apologize endlessly. Giving them a singular, definitive solution is good. Better yet,  presenting options, especially for complex situations, is beneficial since you empower them to decide for themselves the best course of action. We all like options!
6. Stay Calm
When dealing with an angry person, don't let irritation get the better of you. Don't fall into the temptation to copy their tone and voice – it will only exacerbate the situation.
Avoid responding too hastily after they make a statement. You'll have a more productive dialogue, remaining calm and taking a moment to ponder your answer.
When responding to a text, chat, or email, proofread your response to ensure you avoid aggressive language. If time permits, step away for a few minutes and return to your drafted response before sending it to the customer or colleague. A break and a fresh perspective helps to filter out any insensitive words.
When you're calm with a frustrated individual, you can disrupt the emotional escalation spiral and tackle the underlying problems that caused the anger. That's Positively Outrageous Service!
Summary and Bonus