Podcast: Play in new window | Download
Subscribe: Apple Podcasts | Google Podcasts | RSS
How do you regulate your feelings and respond to other people's feelings?
"Emotions are one of the main things that derail communication. Once people get upset at one another, rational thinking goes out of the window." ~ Christopher Voss
There isn't a business that doesn't have difficult, emotional, or even angry customers and team members.
It's not easy to converse with them, but there are emotionally intelligent ways to effectively reduce both sides' frustration.
Emotional intelligence (sometimes also called EI or EQ) is the ability to identify and regulate your feelings and people's feelings around you. One leadership coach describes it as:
"The act of knowing, understanding, and responding to emotions, overcoming stress in the moment, and being aware of how your words and actions affect others."
A higher EQ facilitates deeper relationships, whether in a team or with your customers.
Use your emotional intelligence to deal with issues faster by practicing the following six strategies to more effectively work with angry, emotional, or difficult people:
Use their name
Exercise reflective listening
Practice empathy
Recognize their baggage
Split it up
Stay calm
In this episode, we'll cover the first three.
1. Use their name.
Utilizing their name recognizes your customer or teammate as a person – a person with a particular problem and history that you actively want to help. It communicates a more personal degree of authenticity. Practice interjecting their name naturally into your dialogue. Don't make it forced. Imagine you're talking to your dejected friend.
2. Reflective Listening
The upset customer or teammate is sharing their concerns. People are exposed when they express their emotions. When people complain or want assistance, it's often during times when they're exasperated, perhaps enraged, certainly not in a calm place. When you show that you're listening and validate what bothers them, you draw near to soothing their pain or hurt.
It's more than saying "I understand" or "I hear you" because those phrases are banal and sound like platitudes.
Practice reflective listening!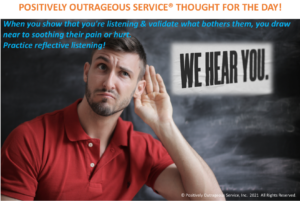 Wikipedia defines reflective listening as "seeking to understand a speaker's idea, then offering the idea back to the speaker, to confirm the idea has been understood correctly."
For example, a customer might say to you, "I've been trying to get my payroll corrected for ten days, and I'm frustrated."
Your reply exercising reflective listening: "What I hear is you're frustrated because your payroll issue is not fixed yet. Is that right?"
Or your teammate says, "I needed that information last week, and I feel you've ignored me," you might reply, "So, you feel that I neglected you when you needed that report from me, is that correct?" 
You're absorbing what the person shared, repeating it back to them in a way that shows you understood. The reflective listening demonstrates that you're not only paying attention, you're also deliberating about what they're sharing with you.
Here's the warning label. Don't be a parrot. People pick up quickly if you're merely repeating back what you heard without processing what is being said – the result can aggravate and make the situation even worse!
Effective reflective listening needs to incorporate empathy.
3. Not sympathy – empathy
Sympathy is seldom the best response to an irate person's problem. Instead, empathy positions you simultaneously as professional, compassionate, and considerate. It frees you up to NOT become emotionally entangled – like when you express sympathy.
Here's another way to look at the difference. When you're sympathetic, you simply feel badly for someone. Sympathy doesn't convey that you appreciate WHY they feel the way they feel.
The archetypal response – "I'm sorry" – is deficient. It won't solve the customer's or teammate's problem. They expect more.
Exercising empathy when engaging with others equips you to understand and hence fulfill their expectations or needs.
So in the next week, when you engage with that distraught individual:
use their name,
exercise reflective listening,
practice empathy.
We look forward to you being Positively Outrageous with that agitated individual!
In the next episode, we'll cover three more strategies to help you deal with that distraught individual!