Podcast: Play in new window | Download
Subscribe: Apple Podcasts | Google Podcasts | RSS
Questions Create Engagement.
Engagement deepens relationships. Richer relationships boosts revenue. 
"How are you?"
"When do you need that by?"
"What's the problem?"
"What do you mean by that?"
"Where did things go awry?"
"Ideally, how would you like the outcome to be? "
"How else can I help you?"
"Judge a man by his questions rather than by his answers." ~ Voltaire
Questions create engagement.
Engagement deepens relationships.
Richer relationships propagate loyalty, raving fans, and advocacy. 
Intense loyalty, raving fans, and advocacy means more business from your existing customers and new business from the outside because of your positive reputation.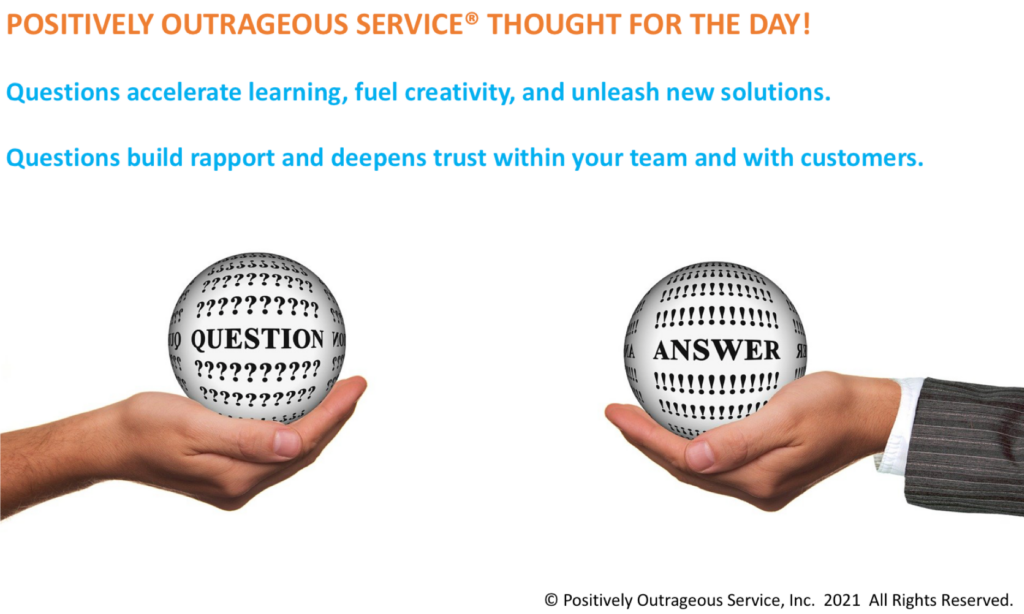 All too often in an organization, questions are an overlooked opportunity. Questions are an exceptionally potent means for unlocking value. Questions accelerate learning, fuel creativity, and unleash new solutions. Questions build rapport and deepen trust within your team and with customers. And it can mitigate business risk by revealing unanticipated pitfalls and hazards.
For some, questioning comes easily. Natural inquisitiveness, emotional intelligence, and the knack to read people put a jewel of a question on their lips. However, most of us don't ask enough questions or optimally position our queries.
Consistency is the key. Practice, practice, practice; ask better questions, quality questions, open-ended revealing questions; what, how, when, where – and you'll experience breakthroughs in relationships and revenue.
And here's the bonus: you'll instinctively improve your emotional intelligence, which in turn makes us better questioners—a healthy cycle.
Voltaire, the French writer, philosopher, and historian, once said: "Judge a man by his questions rather than by his answers." 
Start today, stop telling and start asking.
Dig deeper.
Use the power of silence and listen.
And ask another question …