You could smell the seafood from a block away. Or perhaps it was only my imagination. Whatever was the case Buns and I had our sights firmly set on Scoma's at the south end of Fisherman's Wharf in San Francisco.
"Do you know what you want?" I asked my best friend on the planet.
"It's going to involve lobster but I want to see all the choices before I decide. What about you?"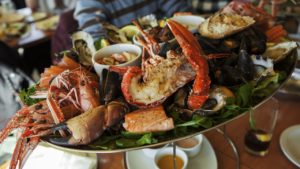 "Mine is going to be about Caesar salad and Sourdough bread with a crunchy crust, a chewy inside, about a pound of butter and probably a Pinot Grigio. I don't know about the rest.
A couple of days earlier we had done a widely syndicated radio show hosted by Tom Holter. While we chatted off air during a commercial break Tom happened to mention Scoma's. Tom had been at Scoma's a few days earlier and couldn't resist telling this story.
Tom and his wife had taken a mini-vacation with some couple friends. Scoma's was their highly recommended choice for their first night in town. Naturally, the place was busy. Another couple was ahead of them when Tom checked in with the hostess. The hostess advised the couple that the wait would be about forty-five minutes and invited them to wait in the bar.
Tom was not surprised to overhear the wait time. Hey, It's Friday night, it's San Francisco and you can't manufacture seats that don't exist. Or can you?
Upon being told the rather long wait time, the gentleman ahead of Tom and his party went ballistic. He was certain that making him wait in the bar was a scam to sell more drinks. Finally, he acquiesced and shuffled through the crowd complaining loudly about the restaurant and especially the hostess.
Tom was next.
"My name is Tom Holter. Party of four. I don't know who that gentleman was but you didn't deserve to be treated like that so I apologize for him. Sorry you have to put up with that. We will wait patiently in the bar."
The hostess smiled. At first it was little smile but then it began to blossom. She raised a pointed finger as if to say, "Wait just a minute." Then she turned her hand over a beckoned him to follow saying, "For you, Mr. Holter, I have a seat right now."
That's a good story but it gets even better.
The night before Tom and his party were scheduled to return home they decided that Scoma's definitely needed a second visit. As luck would have it the same hostess that had seated them on Friday night was on duty.  Before the door was fully closed the hostess recognized Tom. She smiled, picked up the microphone and said, "Holter party of four your table is ready!"
Tell me. Which would you rather have? Would you rather be right and get crummy service or would you be willing to work just a bit to get what you want? In a service situation it's smart to recognize who has the power in the relationship. Hint: It's not you! The server often has the power if not the authority to give discounts, bend or even break return policies or, and this is the big one, choose to help other customers. For example, in a restaurant your server could choose to be at your total beck and call. Or they could be in the back taking a smoke break and you would never know.
If you are tired of indifferent service, here's a tip: market yourself so that you're the one that gets the attention when a server is given the choice between being at your service or helping the cook stack sliced cheese.
Create a culture of Positively Outrageous Service, call us today at (830) 792-5555