Podcast: Play in new window | Download
Subscribe: Apple Podcasts | Google Podcasts | RSS
Slogans don't provide service.  People do.
If you don't want to read it, listen to the podcast above or watch it on YouTube here!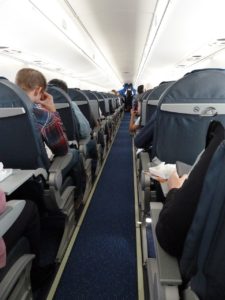 Have you ever noticed that airlines have some of the best slogans to describe some of the worst service?  There was Delta is ready when you are and if you are really old you will remember when Continental was the proud bird with the golden tail.  Airlines are really good at making up slogans.  But they could use some help when it comes to providing a positively outrageous service experience.  Here's why.
Slogans don't provide service.  People do.  (< Tweet this) A terrific service person, we call them service naturals, working for crummy airline is still going to at least try to give you great customer service.
Not long ago Michael grabbed an early morning flight and spent most of the air time setting up a new table computer. Everything on the computer seemed to work but it wasn't until Michael was halfway to his destination when he made an amazing technological discovery: computers don't work so well if you leave them on the plane!
The good news is that one of those service naturals we mentioned a few seconds ago was working the flight that Michael had just deplaned.
In spite of bumper to bumper traffic Michael was making pretty good time. The trip was off to a pretty good start when the phone rang. Michael used his hands-free technology to catch the call.
"Mr. Hoffman? This is Mary. I was working your in-bound flight. By any chance did you leave anything on the plane?"
Michael instantly began taking inventory and it only took a mid-frisk for him to discover that his new computer had every gee-whiz feature except maybe a tube of Gorilla glue to keep man and computer from unexpected separation.
Mary gave Michael shortcut instructions back to the airport as well as her cell phone number so he could call her when he arrived and they could meet without Michael having to park.
Mary is what you would call a service natural and that's what we call Positively Outrageous Service. Some people love to fly and it shows!
Don't just make service a slogan create a tangible customer experience! (< Tweet this)
Call us today at (830) 792-5555 to deliver Positively Outrageous Service!