Podcast: Play in new window | Download
Subscribe: Apple Podcasts | Google Podcasts | RSS
How's Your Heart in Serving Others with Positively Outrageous Service®
Here's a 2-minute touchpoint on what I find to be the heart of Positively Outrageous Service.  How does your heart see your role in serving another with Positively Outrageous Service? (POS).
"The best way to find yourself is to lose yourself in the service of others" ~ Mahatma Gandhi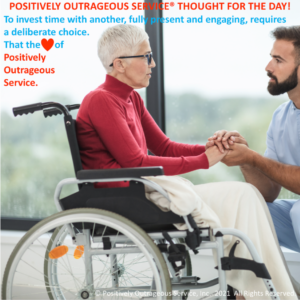 My mother-in-law, Yvonne, not the most healthiest person when walking, found herself traveling to see us In Dallas. She was coming from California, and boarding that flight, she had to go through a challenging but, as it turned out, a meaningful airport experience. I know we tell many airport stories – they're just fodder as we bump into each other, having those beautiful people interactions and experiences that are Positively Outrageous!
It's not a pleasant journey for Yvonne to go from curbside, through security, and then to her gate. She requests and gets a wheelchair. The wheelchair person who pushes her to the gate starts up a conversation. He asks her about herself. He was charming, lovely, and engaging in spending those few moments with her. When he got her to the gate, he realized she had to wait a while for that plane to board.
He made a critical choice. He decided to stay with Yvonne and make sure that she was able to make the plane. Not everyone would do that. A "service natural," by definition, does precisely that. Most wheelchair attendants know and do their job well, going from one place to another with one person or another.
She tells this story over and over and over again. What strikes me the most is the wheelchair attendant's disposition to her. Yvonne shares how he asked questions about her; how he was genuinely interested in her; how he passed the time, which took about 45 minutes before that gate opened, and he permitted himself to leave.
To invest time with another, fully present and engaging, requires a deliberate choice. That is the core of Positively Outrageous Service. To put service in front of self –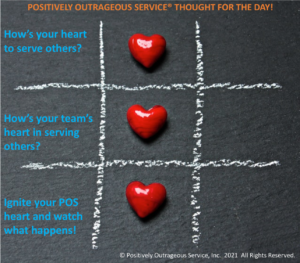 to have the heart of someone who sees, anticipates, and understands the customer's needs and takes advantage of those moments, and genuinely brings a positively outrageous experience in serving them.
If your heart is in the right place, and you are sincerely doing it to authentically serve another, moments to deliver positively outrageous service pop up all the time. Where is your heart when it comes to helping others? Let me encourage you to ignite that part of your heart that says I know what I need to be for the person in front of you, and you watch what happens to your service as it becomes positively outrageous!